Buy your BEE in support of Literacy!
High River Sobeys, Okotoks Sobeys and AG Foods Country Mart in Black Diamond supported literacy by selling paper bees during the month of June.  They raised over $1200.00! Thank you to these wonderful local businesses as well as Sun Country and Kevin Wallace
Did you know…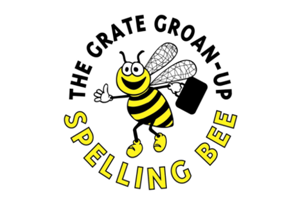 The Grate Groan Up Spelling Bee is the hottest competition in the Foothills. This hilarious, action packed event has teams of 3 adults competing in a battle for bragging rights to spelling supremacy. Each team helps fundraise to support literacy and learning in the Foothills.
The 5th Annual Grate Groan Up Spelling Bee will be held September 30th, 2017 at the historic Wales Theatre in High River. Click on link for 2017 Registration Forms, Rules, Instructions and Donor Sheet. If you are interested in entering a team call 403.652.5090 or email info@litforlife.com for more information.
The Bee will be held on Alberta Arts and Culture Days which will add lots of fun and activity to the day. Watch for information in June on the Cardboard Challenge and help us build creativity and community.
Raffle Tickets Available:  Win $3,000.00 in Air Canada Gift Cards and an awesome travel goodie bag.  Only 1500 tickets printed.  $10.00 a ticket. Call the office at 403.652.5090 or email info@litforlife.com.  Watch for raffle sales in the community.