Job Postings:  Call the office at 403.652.6090 for more information.
Volunteer Communication Coordinator
Building Blocks and Group Facilitator.
Did you know…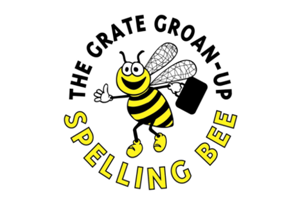 The Grate Groan Up Spelling Bee is the hottest competition in the Foothills. This hilarious, action packed event has teams of 3 adults competing in a battle for bragging rights to spelling supremacy. Each team helps fundraise to support literacy and learning in the Foothills.
When: September 30th, 2017  Doors open at 12:30 pm
Where: Historic Wales Theatre in High River
Click on link to donate!
The Bee will be held on Alberta Arts and Culture Days which will add lots of fun and activity to the day. Family friendly event – come out and participate in the Cardboard Challenge  and the #KindStones Project.
Get your raffle ticket at the Bee, Studio D, The Shop and the Museum in High River or call 403.652.5090.  You can win $3,000 in Air Canada Gift Cards and an awesome travel goody bag. Only $10.00 a ticket.
Check out this link for more information.
Wonderful Cards for sale:
Do you need Greeting Cards?  NorthplusSouth, an Okotoks business, donated some wonderful good quality cards for our use.  Only $1.00 a card.  Select cards are by donation.  Choose from Christmas, Valentines, Easter, Thank you, Birthdays, Anniversary and much, much more.
Purchase them at #3 1204 – 10th St. SE, High River, Alberta.  (our office) Available during work days from Monday to Thursday 9:00 am – 4:00 pm and select days at the High River Farmer's Market.  (check out web calander for days we are at the market)
Book Bungalows
32 Book Bungalows have been adopted and distributed to good homes.   The Bungalows become the property of the individual or group that takes them and it will be their responsibility to maintain the books and the bungalow.
The Town of High River is helping to prepare a map that shows all the locations of the Book Bungalows. The map is available on our website at http://litforlife.com/in-the-community.php and soon to be on the Town of High River's site and other appropriate locations. Do you already own a little free library?  Would you like to be added to the map? Please contact the office with your address and contact information.
A Book Bungalow and a Board Game Box will be set up on between Evelyn's Memory Lane and Colossis downtown for public use.  The Mayor's Youth Advisory Committee has decorated this Bungalow.  On September 8th, International Literacy Day, we will be launching the Book Bungalows.  Ribbon Cutting at 11:30 am with cake to follow. (2:00 pm)   Come down celebrate the offical launch.  (118 4 Ave SW, High River)
Highwood HighSchool Grade 10 Construction class constructed the Bungalows as a school project and did an awesome job. We are excited to partner with the young people at that school.   High River Home Hardware is a generous donor to this project as well as the High River Rotary, and the High River Vitality Fund. We also have had help from so many volunteers in our community. Delbert Moncrieff donated his time and truck to transport the bungalows to the Culture Centre.  The High River Firemen and Fred Stegmeier came out and helped move them into the Culture Centre.
Thank you Delbert